China is a large country where chronic respiratory diseases are common, and the mortality rate and disease burden of chronic respiratory diseases are among the highest. The number of patients with chronic respiratory diseases has increased dramatically in recent years, and the task of disease prevention and treatment is daunting.
To take chronic obstructive pulmonary disease (COPD) as an example, the latest article published in The Lancet in May 2022 shows that the number of patients with COPD in China has reached 105.8 million, with a prevalence rate of 12%, and the demand for therapies is quite high.
The current treatments for asthma and COPD are mainly respiratory inhalers, in which the medication isinhaled into the lungs through the mouth to alleviate the symptoms of the disease. The inhalers are generally divided into 4 dosage types: nebulisers, pressure metered dose inhalers (pMDIs), dry powder inhalers (DPIs), and soft mist inhalers (SMIs)
DPIs and pMDIs account for nearly 80% of the total global market while nebulizers account for 73% of the market in China. The usability and performance of nebulizers is much lower than the one of pMDIs, DPIs and SMIs. DPIs and SMIs emerged late in the Chinese domestic market, but their future expansion is forecasted to be vast. It is worth noting that the home-grown rate of inhalation preparations in China is less than 10%.
The Chinese inhaled therapies are dominated and controlledby three large pharmaceutical companies: GSK (UK), BI (Germany) and AZ (UK). In 2019, they accounted for 69.7% of the market share of inhalation therapies in Chinese domestic hospitals, while the combined share of domestic players was less than 15%.
Chinese domestic pharmaceutical companies have an opportunity to catch up. For these companies, what are the challenges they are facing? How can they accelerate the pace of catching up?
In this regard, VCbeat recently had a conversation with Dr. Philippe Rogueda FRSC, the co-founder of Merxin Ltd , a UK company that develops and supplies inhaler devices, to find out what Merxin's insights and capabilities are.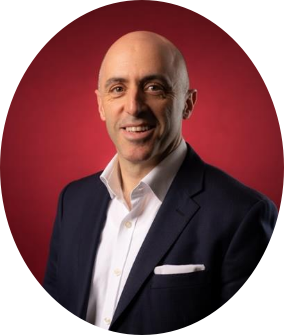 Philippe Rogueda, Co-founder and Chief Business Officer of Merxin
Revolutionizing the current development & supplymodel of inhalation devices
VCbeat: Could you share some thoughts about your own background and the founding story of Merxin?
Philippe: Merxin has celebrated its 6th year this year on December 8. Back in 2015, we had nothing, only ideas and dreams, we started from scratch.
I was a formulation scientist for pharmaceutical companies such as AZ and Novartis. I was also an Executive Director at Actavis, in charge of the inhalation therapies portfolio with 11 projects covering nasal, nebulisers, DPIs, pMDIs and SMIs.
Eventually I decided to leave Actavis to try something else, as I gradually realized that what I really wanted to do was to change the way inhalers were supplied and used. I was the spark behind Merxin and my business partner Graham Purkins was the kindling wood. We now have a fabulous company.
Before Merxin was started, the only way for the industry to get a DPI or SMI was to develop a device on their own from ground zero. Everything from designing and prototyping to scaling up had to be done from scratch. This was nearly impossible to achieve for both generic and novel drug companies.
Merxin was set up to develop and supply inhaler devices, designed to be equivalent to immensely popular and accepted reference devices and go beyond, to improve their intellectual property and to make them available to all companies.
Five years after our founding, one of our clients launched Tiogiva, a generic of tiotropium bromide dry powder inhaler (DPI) for COPD. It was approved and launched in Europe in collaboration with Glenmark. This product is a generic version of Boehringer Ingelheim's Spiriva Handihaler.
In the space of 6 years, we launched 5 products: MRX001, a generic Diskus; MRX002, a tool to formulate pMDIs; MRX003, a generic HandiHaler (now on the market); MRX004, a generic Respimat and MRX006, a generic Ellipta. I believe we are currently the most advanced and successful inhaler device company in the market. We are the most advanced soft mist inhaler (cf MRX004) developer in the industry.
VCbeat: Could you tell us more about Merxin? What specific challenges are your team working to solve?
Philippe: Merxin's core business is manufacturing inhalers, we are active inthe drug delivery field. This is obviously a very large market, especially in China, where the population of patients with chronic respiratory diseases is massive. Lung infections and COVID also have a large impact on the overall market.
Inhalation devices are inarguably an essentialsegment of the pharmaceutical industry. With its inhalers, Merxin addresses this market challenge in a way that has never been done before.
Traditionally, pharmaceutical companies such as Boehringer Ingelheim, AstraZeneca, GSK, Novartis and Pfizer have developed their own inhalation drug delivery technologies, keeping their drug formulations and delivery devices firmly in their hands.
What Merxin does is it makes delivery technologies that are controlled by a few, rich big pharma companies available to more companies that do not have device expertise, but want to enter the inhaled drug delivery market, be in it with new or generic molecules. Merxin's current focus in the field of inhaled drug delivery is on lung diseases and but also for systemic delivery.
Typically, when a patient takes a solid dosage form like a pill, about 90% of that drug passes straight through the body, and will not be absorbed. A solid dosage typically has 10% bio-availability. If you take an injection, you get 100% bio-availability because the drug is administered straight into the bloodstream. How does the inhaled route compare?
Inhalation is much closer to injection. Instead of having a needle, you could have an inhaler, which is noninvasive. That's why the lung is being used for treatment of diabetes with the delivery of insulin.
Inhaled drug delivery is not only about treating lung disease locally, but actually accessing the bloodstream as an alternative to injections. That is the world Merxin works in, and the market we make inhaler devices available to. These devices are dry powder and soft mist inhalers.
What we are doing is simplifying the access to inhaled drug delivery technology, making it more accessible and turning inhalation drug delivery into one of the standard modalities for delivering drugs to the body. It doesn't need to be complicated. It doesn't need to be exclusive. It has to be made available. And it has to be of high quality. That is what Merxin does.
Launching a blockbuster within six years
VCbeat: The product that your pharma partner launched is now available in the European region, could you share its advantages and market potential?
Philippe: In theinhalation drug delivery world, there is a handful ofleading products which are blockbusters. When we started 6 years ago, there was a product called Advair Diskus by GSK. That was the number-one selling asthma and COPD drug in the world. We started with making a generic version of that device. Then we developed a generic Handihaler which was the second best-selling inhalation drug for asthma and COPD in the world. This was a blockbuster worth 5 billion USD a year.
We make generic versions of technologies that are proven and well accepted by patients and doctors. We are making those technologies available to the pharmaceutical community. When we say we make generics, we don't simply make a replacement of a reference product, we actually make the whole package of an innovative technology available.
All our products have the ambition of becoming blockbusters in their own right because they are well accepted by patients and they are well characterized. We are not creating new technologies that will need to be tried and debugged.
What we do differently from our competitors is to bring ready-made and popular inhaler devices to the market. Our competitors work differently and address different segments of the market. They design prototype devices but do not launch them, or they manufacture other people's devices. In short, they are either contract manufacturers or designers; not both. Merxin is the favorite inhaler supplier of the industry because we support our clients from early phase, clinical trials to commercial launch and supply.
Merxin is different in that we are the designer, we are the developer and we support our customers with commercial manufacture and launch. If you have a molecule, but aren't sure what to do with it, or if you want to deliver a drug to lungs but don't know how to do it, come to us. We're here to help our clients through the entire process from development to commercialization.
Figure 1. Merxin Project Timeline
Most generic companies take 8 to 10 years to launch a product. We don't. We are very focused on delivery and the quality of our devices. When you're trying to develop a product, you have many hurdles like the API, the formulation, then the device, then the clinical trials, the regulatory conversations, etc.
What Merxin does, one of our strengths, is to take device problems away from you. We are your partner. We are not simply giving you a solution that may or may not work. We help you to make it work. This is why we were able to successfully bring our current product, the MRX003 a capsule dry powder inhaler, to market in just 5 years. This an industry record.
VCbeat: Besides MRX003, what other products are you looking forward to?
Philippe: We actually have 4 products. Our launched product is MRX003, which is a capsule dry powder inhaler that is on the market as a generic of Handihaler. There is MRX002 which is a pMDI visualization see-through cannister; it's an enabler for low-carbon footprint pMDIs. That's our oldest product.
MRX004 is a soft mist inhaler and a fabulously popular device. We are the most commercially successful device company developing and marketing a soft mist inhaler. We are ahead of the game in that segment: we have very successful partnerships with MRX004.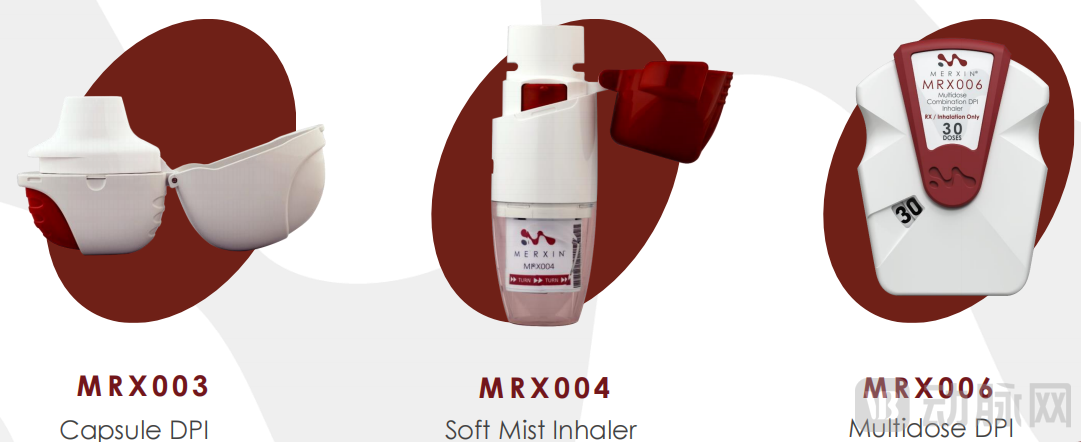 Figure 2. The MRX Devices
MRX004 is a very low carbon foot printinhaler because it doesn't use propellant, it uses water, and there isno electricity needed to power it. Compared to a nebulizer, which requires electricity or batteries, this is one of the greenest inhalers you can possibly use.
MRX004 is used for specific lung treatment such as asthma and COPD, but it is also being used for systemic delivery and non-lung therapies. In particular, it has been tested in the last few years for the treatment of COVID; and it is being used with biomolecules and for systemic delivery of molecules for the central nervous system, for instance, e.g., epilepsy seizures. Low carbon inhalers are extremely popular and MRX004 is a leading device for the future.
MRX006 is a multidose dry powder inhaler, a generic of Ellipta, based on a dual blister concept. MRX006 is a device that contains pre-metered doses. You can have a month's worth of dosesinside the device, with no need to recharge. The dose is already in the device so you don't have to do any manipulation, unlike in a capsule device. It is much easier and safer for the patient to use.
Growing with partners by licensing
VCbeat: What kind of partnership do you want to achieve? What is your business model?
Philippe: Our partnership model is to work with partners and their molecules from an early phase. It is usually based on a licensing model that includes molecules and geography as the foundations. We have different partnership models, depending on the intent, if it's for a generic molecule, a new molecule, the stage of the clinical development etc. The device will be made available to the company as the project progresses, aiming to de-risk their development path both in terms of time and money.
VCbeat: What challenges have you encountered or are you facing? And what others do you anticipate moving forward?
Philippe: I think our greatest challenge is to grow fast enough to meet the demands of the market. The market is extremely hungry for devices and in particularly for the Merxin devices. To be able to deliver the devices and invest quickly enough is the greatest challenge. We have something that is unique and that everybody wants. That's the challenge number one challenge.
The next challenge is to find the right suppliers. There are challenges of finding suppliers across the world who have a valid expertise in inhalers, and there are not many of them. Finding that expertise to be able to grow with the market is not easy.
The other challenge we meet as a European company, based in the UK., is how to access China. We know Europe extremely well, we know the US equally well, but reaching out to China is difficult on our own and that's why we work with Cenponts to be able to reach out to this market, which is very exciting.
VCbeat: Have you got any plans of expanding your business soon in China? What kind of partners are you looking for?
Philippe: The type of partnerships we are looking for in China is either licensing partnerships based on molecules and specific products, or agency to manufacture devices on the ground in China using Merxin's technology. We have to be honest and tell ourselves that we will not expand on our own in China. We are still too small; we need to grow in partnerships with Chinese companies.
VCbeat: What are some of the upcoming breakthroughs in the overall inhalation therapy field that you feel more excited about? What trends do you observe that are in the making?
Philippe: I think antibacterial treatments will be an important growth driver for inhaled drug delivery. Another trend I see coming is using the lungs as a portal to deliver drugs systemically. We think of lung delivery within local action, but actually there's much more than that. We see a lot of molecules being developed and being researched that are not just for asthma and COPD. This is what will be carrying the inhalation industry forward, and that's very exciting. Merxin is part of that future.
VCbeat: The major players in the inhalation therapy industry are still those from Europe and the US. Chinese pharmaceutical companies still have a great deal of catching up to do in the future.
Philippe: That is why they should partner with us to grow faster. Inhalers can be used in more than just the medical field. Think of Nicotine replacement therapies. Our inhalers could provide a better and healthier alternative to e-cigarettes. A more desirable approach would be to use our MRX004 soft mist inhaler. We are currently seeking partners to build safer medical grade devices, which is a huge market.
VCbeat: It's always exciting to see companies like Merxin emerge, and let's hope that more and more partnerships will come up in the near future. We look forward to seeing the Merxin devices made and sold in China.